Where the "Chariot" brings Hot-Fresh Gourmet-Style Pizza to you.
FRESH. SIMPLE. DELICIOUS.
It's so good, you'll come back for more!
Hearthside Chariot LLC makes our pizza to perfection every time.  Using the highest quality ingredients, our pizza is hand crafted to your liking using our signature hand tossed dough, specialty sauce, and the finest toppings.
Learn more about how our pizza stands apart from the rest.  Contact us to explore menu options for your event.
Have a favorite pizza?  Let us know. Nothing is impossible.

SAUSAGE
Garlic Sausage, Red Sauce, Mozzarella
PEPPERONI
Pepperoni, Red Sauce, Mozzarella
SOS
Garlic Sausage, Mozzarella, Kalamata Olives (White Pizza)
VEGGIE
Red Sauce, Mozzarella, Mushrooms, Onion, Peppers


MARGHERITA
Crushed Italian Tomatos, Fresh Mozzarella, Basil

MUSHROOM/SPINACH
Spinach, Mushrooms, Red Sauce, Mozzarella
MEAT LOVERS
Pepperoni, Sausage, Bacon, Mozzarella
BBQ CHICKEN
Chicken, BBQ, Cheddar, Red Onion

TAILGATER
Brats, Mustard Sauce, Mozzarella, Cheddar, Sauerkraut, Red Onion
HAWAIIAN
Red Sauce, Mozzarella, Canadian Bacon, Pineapple
THE CHICAGO
Red Sauce, Mozzarella, Italian Beef, Roasted Peppers, Pepperoncini
JIMMY the GREEK
Red Sauce, Artichoke Hearts, Kalamata Olives, Feta Cheese
WHITE PIZZA
Mushrooms, Kalamanta Olives, Artichoke Hearts, Tomato, Pepperoni
WHITE VEGGIE
Roasted Peppers, Tomato, Onion, Mozzarella
FRESH SINATRA
Basil, Pesto, Artichokes, Tomato, Garlic, Feta
The Options are Endless!
Hearthside Chariot will be happy to work with you to customize your event menu to fit your specific needs.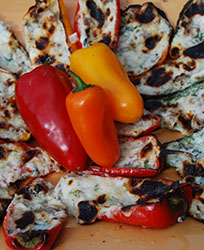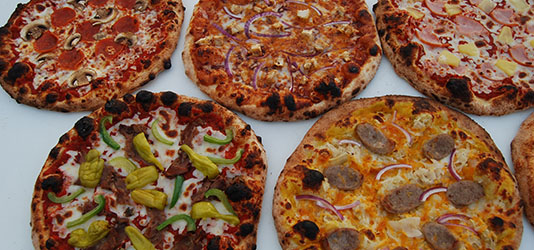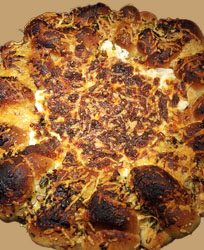 Allergen Notice:
We prepare our food fresh on site. We cannot guarantee that cross-contact with allergens and gluten-containing products will not occur during preparation. Guest with allergies and gluten sensitivities should exercise judgement in regard to their individual needs. We have gluten everywhere, our food is likely not safe for anyone with celiac disease or a wheat allergy.  For those people for who gluten-free is a dietary choice, we have gluten free crust available for an additional charge